Twin Wing Parametric Study
These figures present the results of a parametric study of the key geometry variables in a twin rigid wing rig (some of which are depicted here). The study used the Cmarc panel code to calculate the lift and induced drag of the two isolated wings in combination, including ground effects. An NACA 0012 airfoil was used (although the actual choice of airfoil should not affect the results of this inviscid analysis).
When compared on the basis of equal rig heights, the twin wing was superior in nearly every respect to a comparable analysis performed on a single wing rig. However, the actual performance may differ because of Reynolds number effects (the twin wing's Reynolds number is less than half that of the single wing) and compromises necessay to provide adequate structural stiffness to the twin wing's long, slender panels.
Two key figures of merit were used. The first, axial force coefficient, is the component of the aerodynamic force that is parallel to the yacht centerline. This is what drives the boat, and is primarily a light wind metric. The second is a metric which I call drive efficiency, which is a measure of how much driving force is produced for a given amount of heeling moment. This is a heavy wind metric, since it takes into account the fact that the yacht is limited by its stability. When this latter metric is formed using nondimensional coefficients, the results have to be adjusted for the fact that the rolling moment coefficients are nondimensionalized using different spans, and must be placed on the same basis when comparing configurations with different luff lengths.
---

Configurations analyzed:

| | | | | | | | | | | | |
| --- | --- | --- | --- | --- | --- | --- | --- | --- | --- | --- | --- |
| | Half Apex Angle, q, degrees | Aspect Ratio, H2/S | Apparent Wind, b, degrees | Left Panel Deflection, d1, degrees | Differential Deflection, d2-d1, degrees | Gap Ratio, Gap/H | Taper Ratio, Ct/Cr | Height, H, feet | Length, L, feet | Root Chord, Cr, feet | Tip Chord, Ct, feet |
| Run | Theta | Aspect | Beta | d1_ | d2md1 | GapRatio | Taper | H | L | Cr | Ct |
| 1 | 12 | 6 | -15 | 0 | 0 | 0.1 | 0.5 | 18.8149 | 19.2352 | 2.0449 | 1.0224 |
| 2 | 14 | 6 | -15 | 0 | 0 | 0.1 | 0.5 | 18.8149 | 19.3909 | 2.0284 | 1.0142 |
| 3 | 16 | 6 | -15 | 0 | 0 | 0.1 | 0.5 | 18.8149 | 19.5731 | 2.0096 | 1.0048 |
| 4 | 18 | 6 | -15 | 0 | 0 | 0.1 | 0.5 | 18.8149 | 19.7831 | 1.9882 | .9941 |
| 5 | 20 | 6 | -15 | 0 | 0 | 0.1 | 0.5 | 18.8149 | 20.0224 | 1.9645 | .9822 |
| 6 | 12 | 8 | -15 | 0 | 0 | 0.1 | 0.5 | 21.7256 | 22.2109 | 1.7709 | .8855 |
| 7 | 14 | 8 | -15 | 0 | 0 | 0.1 | 0.5 | 21.7256 | 22.3907 | 1.7567 | .8783 |
| 8 | 16 | 8 | -15 | 0 | 0 | 0.1 | 0.5 | 21.7256 | 22.6011 | 1.7403 | .8702 |
| 9 | 18 | 8 | -15 | 0 | 0 | 0.1 | 0.5 | 21.7256 | 22.8436 | 1.7219 | .8609 |
| 10 | 20 | 8 | -15 | 0 | 0 | 0.1 | 0.5 | 21.7256 | 23.1199 | 1.7013 | .8506 |
| 11 | 12 | 4 | -15 | 0 | 0 | 0.1 | 0.5 | 15.3623 | 15.7055 | 2.5044 | 1.2522 |
| 12 | 14 | 4 | -15 | 0 | 0 | 0.1 | 0.5 | 15.3623 | 15.8326 | 2.4843 | 1.2422 |
| 13 | 16 | 4 | -15 | 0 | 0 | 0.1 | 0.5 | 15.3623 | 15.9814 | 2.4612 | 1.2306 |
| 14 | 18 | 4 | -15 | 0 | 0 | 0.1 | 0.5 | 15.3623 | 16.1529 | 2.4351 | 1.2175 |
| 15 | 20 | 4 | -15 | 0 | 0 | 0.1 | 0.5 | 15.3623 | 16.3482 | 2.406 | 1.203 |
| 16 | 16 | 6 | -15 | 0 | -5 | 0.1 | 0.5 | 18.8149 | 19.5731 | 2.0096 | 1.0048 |
| 17 | 16 | 6 | -15 | 0 | -10 | 0.1 | 0.5 | 18.8149 | 19.5731 | 2.0096 | 1.0048 |
| 18 | 16 | 6 | -15 | 0 | -15 | 0.1 | 0.5 | 18.8149 | 19.5731 | 2.0096 | 1.0048 |
| 19 | 16 | 6 | -15 | 0 | -20 | 0.1 | 0.5 | 18.8149 | 19.5731 | 2.0096 | 1.0048 |
| 20 | 16 | 6 | -15 | 0 | -25 | 0.1 | 0.5 | 18.8149 | 19.5731 | 2.0096 | 1.0048 |
| 21 | 16 | 6 | -15 | 0 | 0 | 0.1 | 0.4 | 18.8149 | 19.5731 | 2.1531 | .8612 |
| 22 | 16 | 6 | -15 | 0 | 0 | 0.1 | 0.3 | 18.8149 | 19.5731 | 2.3187 | .6956 |
| 23 | 16 | 6 | -15 | 0 | 0 | 0.1 | 0.2 | 18.8149 | 19.5731 | 2.5119 | .5024 |
| 24 | 16 | 6 | -15 | 0 | 0 | 0.1 | 0.1 | 18.8149 | 19.5731 | 2.7403 | .274 |
| 25 | 16 | 6 | -20 | -5 | 0 | 0.1 | 0.5 | 18.8149 | 19.5731 | 2.0096 | 1.0048 |
| 26 | 16 | 6 | -25 | -10 | 0 | 0.1 | 0.5 | 18.8149 | 19.5731 | 2.0096 | 1.0048 |
| 27 | 16 | 6 | -30 | -15 | 0 | 0.1 | 0.5 | 18.8149 | 19.5731 | 2.0096 | 1.0048 |
| 28 | 16 | 6 | -15 | -5 | 0 | 0.1 | 0.5 | 18.8149 | 19.5731 | 2.0096 | 1.0048 |
| 29 | 16 | 6 | -15 | -10 | 0 | 0.1 | 0.5 | 18.8149 | 19.5731 | 2.0096 | 1.0048 |
| 30 | 16 | 6 | -15 | 0 | 0 | 0.2 | 0.5 | 18.8149 | 19.5731 | 2.0096 | 1.0048 |
| 31 | 16 | 6 | -15 | 0 | 0 | 0.05 | 0.5 | 18.8149 | 19.5731 | 2.0096 | 1.0048 |
| 32 | 16 | 6 | -15 | 0 | 0 | 0.1 | 0.6 | 18.8149 | 19.5731 | 1.884 | 1.1304 |
| 33 | 16 | 6 | -15 | 0 | 0 | 0.1 | 0.7 | 18.8149 | 19.5731 | 1.7731 | 1.2412 |
| 34 | 16 | 6 | -15 | 0 | 0 | 0.1 | 0.8 | 18.8149 | 19.5731 | 1.6746 | 1.3397 |
| 35 | 16 | 6 | -15 | 0 | 0 | 0.1 | 1 | 18.8149 | 19.5731 | 1.5072 | 1.5072 |
| | | | | | | | | | | | | |
| --- | --- | --- | --- | --- | --- | --- | --- | --- | --- | --- | --- | --- |
| | Average Chord, CMAC, feet | Link Length, Lp-L, feet | Pivot Length, Lp, Feet | Length Ratio, Lp/L | Width, W, feet | Root Y, Yr, feet | Root Z, Zr, feet | Pivot Height, Hp, feet | Tip Clearance, Wt, feet | Tip Clearance, Fraction of Tip Chord | Tip Y, Yt, feet | Tip Z, Zt, feet |
| Run | MAC | Link | Lp | LenRatio | W | Yr | Zr | Hp | Wt | Wt/Ct | Yt | Zt |
| 1 | 1.5336 | 2.4051 | 21.6403 | 1.125 | 8.9985 | 4.4993 | 1.8815 | 23.0489 | 1.0001 | .9781 | .5 | 20.6964 |
| 2 | 1.5213 | 2.0339 | 21.4248 | 1.1049 | 10.3663 | 5.1831 | 1.8815 | 22.6699 | .9841 | .9703 | .492 | 20.6964 |
| 3 | 1.5072 | 1.752 | 21.3252 | 1.0895 | 11.756 | 5.878 | 1.8815 | 22.3805 | .9659 | .9613 | .4829 | 20.6964 |
| 4 | 1.4912 | 1.5298 | 21.3129 | 1.0773 | 13.1721 | 6.5861 | 1.8815 | 22.1513 | .9455 | .9511 | .4727 | 20.6964 |
| 5 | 1.4734 | 1.3493 | 21.3717 | 1.0674 | 14.6191 | 7.3096 | 1.8815 | 21.9643 | .923 | .9397 | .4615 | 20.6964 |
| 6 | 1.3282 | 2.0829 | 24.2938 | 1.0938 | 10.1019 | 5.051 | 2.1726 | 25.9355 | .8661 | .9781 | .4331 | 23.8981 |
| 7 | 1.3175 | 1.7614 | 24.1521 | 1.0787 | 11.6858 | 5.8429 | 2.1726 | 25.6072 | .8523 | .9703 | .4261 | 23.8981 |
| 8 | 1.3052 | 1.5173 | 24.1184 | 1.0671 | 13.2959 | 6.6479 | 2.1726 | 25.3567 | .8365 | .9613 | .4182 | 23.8981 |
| 9 | 1.2914 | 1.3248 | 24.1684 | 1.058 | 14.9369 | 7.4685 | 2.1726 | 25.1581 | .8188 | .9511 | .4094 | 23.8981 |
| 10 | 1.276 | 1.1686 | 24.2884 | 1.0505 | 16.6143 | 8.3071 | 2.1726 | 24.9962 | .7993 | .9397 | .3997 | 23.8981 |
| 11 | 1.8783 | 2.9456 | 18.6511 | 1.1876 | 7.7556 | 3.8778 | 1.5362 | 19.7798 | 1.2249 | .9781 | .6124 | 16.8985 |
| 12 | 1.8632 | 2.491 | 18.3236 | 1.1573 | 8.8658 | 4.4329 | 1.5362 | 19.3156 | 1.2053 | .9703 | .6026 | 16.8985 |
| 13 | 1.8459 | 2.1458 | 18.1272 | 1.1343 | 9.9931 | 4.9965 | 1.5362 | 18.9612 | 1.1829 | .9613 | .5915 | 16.8985 |
| 14 | 1.8263 | 1.8736 | 18.0265 | 1.116 | 11.141 | 5.5705 | 1.5362 | 18.6804 | 1.1579 | .9511 | .579 | 16.8985 |
| 15 | 1.8045 | 1.6526 | 18.0008 | 1.1011 | 12.3133 | 6.1566 | 1.5362 | 18.4514 | 1.1304 | .9397 | .5652 | 16.8985 |
| 16 | 1.5072 | 1.752 | 21.3252 | 1.0895 | 11.756 | 5.878 | 1.8815 | 22.3805 | .9659 | .9613 | .4829 | 20.6964 |
| 17 | 1.5072 | 1.752 | 21.3252 | 1.0895 | 11.756 | 5.878 | 1.8815 | 22.3805 | .9659 | .9613 | .4829 | 20.6964 |
| 18 | 1.5072 | 1.752 | 21.3252 | 1.0895 | 11.756 | 5.878 | 1.8815 | 22.3805 | .9659 | .9613 | .4829 | 20.6964 |
| 19 | 1.5072 | 1.752 | 21.3252 | 1.0895 | 11.756 | 5.878 | 1.8815 | 22.3805 | .9659 | .9613 | .4829 | 20.6964 |
| 20 | 1.5072 | 1.752 | 21.3252 | 1.0895 | 11.756 | 5.878 | 1.8815 | 22.3805 | .9659 | .9613 | .4829 | 20.6964 |
| 21 | 1.5072 | 1.5017 | 21.0749 | 1.0767 | 11.618 | 5.809 | 1.8815 | 22.14 | .8279 | .9613 | .4139 | 20.6964 |
| 22 | 1.5072 | 1.213 | 20.7861 | 1.062 | 11.4588 | 5.7294 | 1.8815 | 21.8623 | .6687 | .9613 | .3343 | 20.6964 |
| 23 | 1.5072 | .876 | 20.4491 | 1.0448 | 11.2731 | 5.6365 | 1.8815 | 21.5385 | .4829 | .9613 | .2415 | 20.6964 |
| 24 | 1.5072 | .4778 | 20.0509 | 1.0244 | 11.0536 | 5.5268 | 1.8815 | 21.1557 | .2634 | .9613 | .1317 | 20.6964 |
| 25 | 1.5072 | 1.752 | 21.3252 | 1.0895 | 11.756 | 5.878 | 1.8815 | 22.3805 | .9659 | .9613 | .4829 | 20.6964 |
| 26 | 1.5072 | 1.752 | 21.3252 | 1.0895 | 11.756 | 5.878 | 1.8815 | 22.3805 | .9659 | .9613 | .4829 | 20.6964 |
| 27 | 1.5072 | 1.752 | 21.3252 | 1.0895 | 11.756 | 5.878 | 1.8815 | 22.3805 | .9659 | .9613 | .4829 | 20.6964 |
| 28 | 1.5072 | 1.752 | 21.3252 | 1.0895 | 11.756 | 5.878 | 1.8815 | 22.3805 | .9659 | .9613 | .4829 | 20.6964 |
| 29 | 1.5072 | 1.752 | 21.3252 | 1.0895 | 11.756 | 5.878 | 1.8815 | 22.3805 | .9659 | .9613 | .4829 | 20.6964 |
| 30 | 1.5072 | 1.752 | 21.3252 | 1.0895 | 11.756 | 5.878 | 3.763 | 24.262 | .9659 | .9613 | .4829 | 22.5779 |
| 31 | 1.5072 | 1.752 | 21.3252 | 1.0895 | 11.756 | 5.878 | .9407 | 21.4398 | .9659 | .9613 | .4829 | 19.7556 |
| 32 | 1.5072 | 1.971 | 21.5442 | 1.1007 | 11.8768 | 5.9384 | 1.8815 | 22.5911 | 1.0866 | .9613 | .5433 | 20.6964 |
| 33 | 1.5072 | 2.1643 | 21.7374 | 1.1106 | 11.9833 | 5.9916 | 1.8815 | 22.7768 | 1.1931 | .9613 | .5966 | 20.6964 |
| 34 | 1.5072 | 2.3361 | 21.9092 | 1.1194 | 12.078 | 6.039 | 1.8815 | 22.9419 | 1.2878 | .9613 | .6439 | 20.6964 |
| 35 | 1.5072 | 2.6281 | 22.2012 | 1.1343 | 12.2389 | 6.1195 | 1.8815 | 23.2226 | 1.4488 | .9613 | .7244 | 20.6964 |
---
Results:

CA: Axial Force Coefficient; Positive is AFT (negative is good)
CA/Cl: (Axial force Coefficient/Rolling Moment Coefficient)
Drive Efficiency: (Axial force Coefficient/Rolling Moment Coefficient)*(H/Href)
Gap: Distance between foot and surface
Taper Ratio: Chord at head divided by chord at foot
Ar: Aspect ratio (span^2 / area)
Beta: Apparent wind angle
Trim: Rotation of wings to adjust angleof attack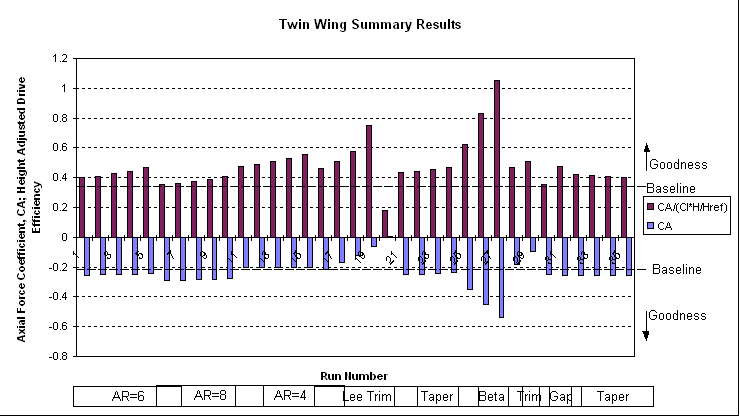 CN, Angle, Variation, AR= 4, 6, 8
CA Angle, Variation, AR= 4, 6, 8
CY Angle, Variation, AR= 4, 6, 8
CA/Cl, Angle Variation, AR= 4, 6, 8
Cl, Angle Variation, AR= 4, 6, 8
Eficiency, Angle Variation, AR= 4, 6, 8
CA/Cl, Taper Ratio Variation Ar = 6, Gap = 0.1 H, Beta = 15 deg
CD, Taper Ratio Variation Ar = 6, Gap = 0.1 H, Beta = 15 deg
CL, Taper Ratio Variation Ar = 6, Gap = 0.1 H, Beta = 15 deg
CD, Gap Variation Ar = 6, Gap = 0.1 H, T= 0.5, Beta = 15 deg
CL, Gap Variation Ar = 6, Gap = 0.1 H, T= 0.5, Beta = 15 deg
CA/Cl, Gap Variation Ar = 6, Gap = 0.1 H, T= 0.5, Beta = 15 deg
CA/Cl, Apparent Wind Variation Ar = 6, Gap = 0.1 H, T = 0.5
CA/Cl, Trim Variation Ar = 6, Gap = 0.1 H, , T=0.5, Beta = 15 deg
CA/Cl, Differential Trim Variation AR= 6, Taper= 0.5, Gap= 0.1 H Beta= 15 deg
Cl, Differential Trim Variation AR= 6, Taper= 0.5, Gap= 0.1 H Beta= 15 deg
CY, Differential Trim Variation AR= 6, Taper= 0.5, Gap= 0.1 H Beta= 15 deg
CA, Differential Trim Variation AR= 6, Taper= 0.5, Gap= 0.1 H Beta= 15 deg

---
Last Updated on 1/16/99
By Thomas E. Speer
Email: tspeer@gte.net